Celebrating 10 Years of Community Engagement
HKUST Connect Established
I see. I care. I reach out.
     I explore. I engage. I reflect.
          I believe. I pursue. I accomplish.
Who We Are
HKUST Connect was set up in Fall 2009 as a community engagement initiative to mobilize the entire University to build on existing efforts in raising civic awareness, and be actively engaged in learning, and service activities for the benefit of the community. It is where...
Students connect their service with their academic experiences and realize their unique role in the community,
Faculty and staff facilitate these activities to enhance student learning as well as deepen their own commitment to education with a public purpose, and
The University collaborates with community organizations, educational institutions, and corporations to organize meaningful projects that assist, inspire and build up their recipients.
Description
HKUST is a diverse, inclusive campus with a caring body of staff and students who are empowered to make a difference. In addition to providing students with a well-rounded academic education, HKUST Connect aims to foster a "learning to give and serve" culture at HKUST by engaging students to connect their academic achievements with community needs. We provide as much support as possible to faculty, students, and community partners.
Interwoven into Hong Kong's social fabric, the University is committed to assist in the social development of our city. In true 1-HKUST spirit, we consolidate the efforts of our University to make an impact that is larger than the sum of its parts. Our united conscience fuels the University's continued commitment to creating lasting impacts for our community.
The Connect Management Team
The HKUST Connect team is composed of recent graduates who had the chance to learn through public service during their university years, and now endeavor to inspire and encourage their "younger brothers and sisters" to engage in community work. The team is responsible for daily operations of HKUST Connect, liaison with community organizations to identify, plan, and implement projects, and facilitating different projects for students' participation. Each member of the team has a different management responsibility. They have taken on executive roles relating to administration, information technology, marketing and communications, as well as service project development.
An important part of the team's work is to pass on the value of service learning to all HKUST students. While acquiring management and leadership skills on the job, team members also have the opportunity to connect with people from all levels of society. By doing so, they can identify various social needs, promote civic engagement, and sharpen their critical thinking. Team members are encouraged to explore their direction and vocation, seek different interests, and develop a broad variety of strengths. We are delighted to see that some of our team members were inspired by their work at HKUST Connect and found their next career chapter in social work or non-profits.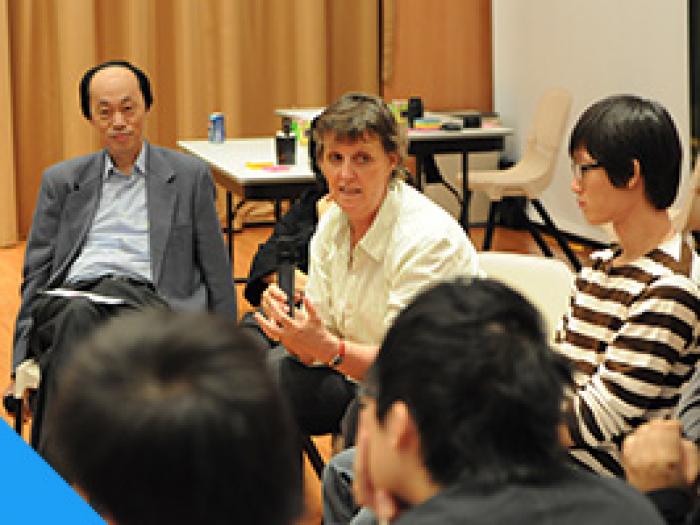 Making the Connection
Dr. Jackie Schmidt-Posner is one of the advisors for HKUST Connect and played a significant role in the formation of the initiative. Coming from decades of experience in tertiary education as Professor of Practice, Community Engagement, Leavey School of Business at Santa Clara University, and Senior Advisor and former Execuitive Director of the Haas Center for Public Service at Stanford University, she had this to say about engaging the community: "it's about making the connection.
Dr. Schmidt-Posner believes that university years are the formative years for students to ask questions like "What is my role in this world?" "What is my passion?" These are great starting points to begin exploring community engagement opportunities through which they can make the connection between themselves and the community. Although taking the first step requires a huge leap of faith, exploring the actual needs of the community by starting small can also lead to huge changes.
By teaching students to serve with their hearts and parallel to their passions, she hopes that each graduate from HKUST will take their responsibilities seriously and apply what they have learned in their university life to contribute to the community.
Service Learning & Leadership Community
Living Learning Communities (LLC) creates and extends student learning opportunities outside the classroom to integrate curricular and co-curricular experiences to enhance students' intellectual and personal growth. Students reside in clusters within the student hall to form small communities led and facilitated by faculty or staff. Through structured programs and activities, students learn to contribute to the development of a more vibrant residential life.
The late Professor Edmond Ko was on the HKUST Connect Advisory Board from the very beginning. As the Learning Community Fellow of the Service Learning & Leadership Community in UG Hall VII's LLC, he taught students to learn how to learn by leading service learning projects. He encouraged students to develop the habit of reflection which is the key element of service learning. "Reflection goes beyond simply recording or even making meaning of the learning experience. It involves connecting the experience to what a learner already knows. Only then will a learner be able to internalize what has been learned and apply that learning to new situations." Prof Ko said, "Once we become effective learners, we will constantly ask ourselves, "Where am I now? Where do I want to be? How can I get there? How do I know I am there? How do I keep improving?"...It involves hard work, but ultimately, it will be a rewarding and worthwhile process."