Changemaker Gear Up Training Series (GUTS)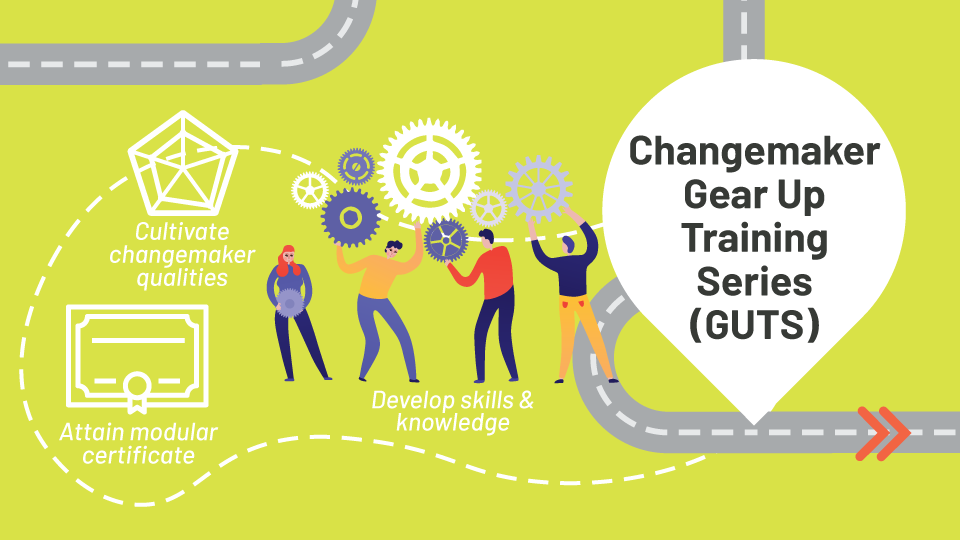 Everyone can be a changemaker! But making real change requires courage and determination. Changemaker GUTS will build up your changemaking muscles by developing your mindset and skills to make positive impact.
A series of activities, talks and workshops will be offered to support you to become a changemaker. These will include some practical tools and approaches that you can apply to your projects. Changemaker GUTS will also bring together civic-minded students where you meet potential teammates with aligned values to take on the Connect for Change together. We are here to empower you to lead and inspire change!
You will be able to:
Cultivate changemaker qualities and mindset
Equip with knowledge and skills to develop ideas to address societal needs
Understand the United Nations Sustainable Development Goals (SDGs) and global connectedness on the larger societal problems
| | |
| --- | --- |
| Period | Sep 2023 - Apr 2024 |
| Certificate of Participation | Participate in any 3 activities, events or workshops |
| HMAW1905 | Upon completion of recognized talks, activities or workshops, HMAW1905 course participants can attain course hours under "Self-Directed Experience". Refer to the respective program for the arrangement. Participants who are away from the session for 10 minutes or more may not be able to attain the HMAW1905 course hours. |
Financial Subsidy
The Scheme is designed to encourage students to participate in endorsed co-curricular programs to learn outside classroom and contribute to the community. It provides a source of financial support to ensure that students who seek personal growth, community engagement and experiential learning opportunities can participate fully in the programs and are not disadvantaged by financial reasons.
Participants of Changemaker GUTS can apply for the Scheme to receive a subsidy, with priority given to Tertiary Student Finance Scheme (TSFS) government grant & loan recipients:
| | |
| --- | --- |
| TSFS grant awarded | Subsidy amount |
| >50% of grant | HK$900 |
| <=50% of grant | HK$450 |
Application: Complete the online application form on or before 30 April 2024.
Successful applicants will receive the subsidy upon satisfactory completion of 3 Changemaker GUTS events and submission of a reflective journal.
---
Feel free to join any events that interest you:
Sub-heading
Events and Workshops
Past Events
Sub-heading
Be the Single Spark to Create Changes
Sub-heading
HKUST Changemaker: skills and mindsets
Sub-heading
Empathy: A Superpower You Need
Sub-heading
Thinking Beyond the Gender Box
Sub-heading
Beyond the Shadows: Fostering Acceptance and Support for Mental Wellness
Sub-heading
Start Saving Quit Wasting
Sub-heading
You Can Draw - Develop your visual thinking to communicate ideas
Sub-heading
From Empathy to Empowerment: A Journey of Change and Impact Creation
Sub-heading
No More Babies: Women's Ultimate Revolution
Sub-heading
Changemaker Pathway
Description
Follow the Changemaker Pathway to understand community needs, develop your skills and changemaker qualities, then turn your ideas into actions for the good of all.