10th Anniversary of HKUST Connect
As HKUST Connect celebrates its 10th year of community engagement in 2019, a series of special events have been organized in the 2018-2019 academic year to commemorate our decennial. HKUST Connect gathers students with an inquisitive spirit and a compassionate heart to engage in service learning activities for the benefit of the community. Come join us as we continue to enhance student learning and deepen our commitment to education with a public purpose.
President-to-President Dialogue - HKUST x ICRC
New horizons in humanitarian diplomacy: The power of new technologies and the roles of Asian youths

At our 10th anniversary kick-off event, we are honored to have Professor Wei Shyy, President of HKUST and Mr. Peter Maurer, President of the International Committee of the Red Cross (ICRC), to discuss and exchange ideas on how technological innovation creates new possibilities and challenges for global humanitarian work. The emergence of autonomous weapons is particularly controversial. How can we better protect civilians in future wars?

Date: 22 November 2018 (Thu)

More information at https://connect.ust.hk/10A/president-dialogue
Video recordings: https://video.ust.hk/Watch.aspx?Video=B6F9D46289BBC00C (ITSC log in required)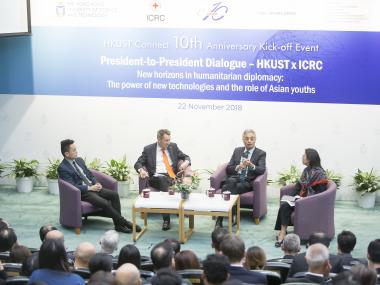 Panel discussion with (from left) Dr Simon Shen, Mr Peter Maurer, Prof Wei Shyy and Prof Kellee Tsai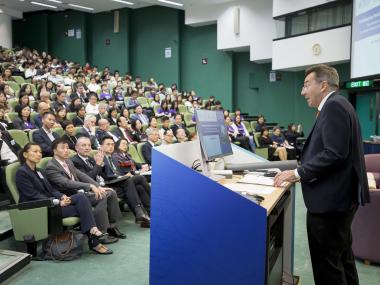 ICRC President Mr Peter Maurer giving a keynote speech
Sub-heading
Best Service Project Award
Description
To celebrate the social impact of our work together, we are recognizing students and alumni who have demonstrated leadership and commitment in community engagement by selecting the 10 most outstanding service projects since our inception.

More information at https://connect.ust.hk/10A/best-service-project-award
10th Anniversary Celebration
As HKUST Connect enters its tenth year, we would like to take this opportunity to thank our partners and the HKUST community for supporting us on our journey of community engagement. 

Date: 12 April 2019 (Fri)
HKUST student and alumni volunteers, faculty and staff, and our valuable partners gathering to celebrate
Some students are sharing their community engagement journey to the guests
Alumni were sharing how they were influenced by HKUST Connect during their school life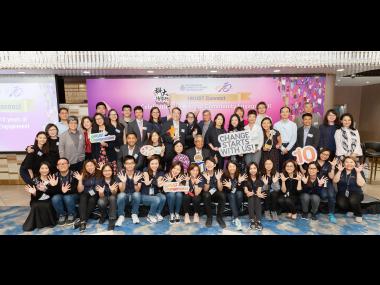 All current and former employees were taking photo together to celebrate the 10th Anniversary of HKUST Connect
Explore Our Journey of Growth
Since its inception, HKUST Connect has embarked on an intrepid journey full of wonderful memories and spectacular tales of innovation and impact. Not only have we chronicled our incredible adventure for you to enjoy, but our student volunteers, partners, and supporters are also eager to share their eye-opening stories with you. Discover more here. 
You can also download the HKUST Connect 10th Anniversary leaflet (pdf).