Description
HKUST Connect organizes service learning trips and workcamps in summer and winter breaks. Students will have the opportunities to visit orphanages and teach underprivileged children in Cambodia, organize activities for left-behind children and meet local families in rural China, refurbish village schools in Nepal and much more. These service learning trips will help you broaden your horizons, enrich your university life, and raise your awareness of what it means to be a global citizen. You can also make a difference to the community that you visit, and gain authentic cultural experience that cannot be acquired in a traditional classroom. 
Sub-heading
Upcoming Service Learning Trips (Winter 2023)
Image
Description
Join us in collaboration with Light On Nepal to serve Shree Ganga Milan School, fostering cultural exchange and immersive learning through volunteering.
Sub-heading
Guilin, China
Image
Description
Empower students at Jian-An Primary School in Guilin through interactive workshops. Deliver knowledge, inspire, and broaden the children's perspectives.
Sub-heading
Connect Overseas Learning Opportunity Sponsorship Scheme
Description
Participants can apply for the Scheme to support their participation in learning trips organized or co-ordinated by HKUST Connect. Successful candidates will receive a subsidy covering part of the  program free. Please click here for more details.
---
Below is the list of service learning trips offered by HKUST Connect.
Image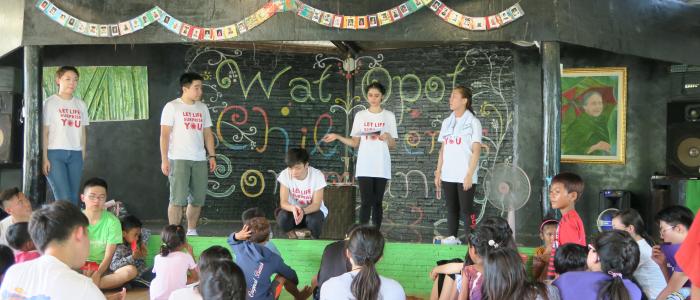 Description
Two groups of students go to Cambodia each year to serve the local children while continuing to build long-term relationships with NGO partners and the local community.
Sub-heading
Guizhou, China
Image
Description
Student volunteers visit the remote villages and primary schools in Guizhou every summer, with the hope to support and empower the lives of the children there.
Sub-heading
Jiangxi, China
Image
Description
By serving the 'left-behind children' in Jiangxi and building relationships with them, volunteers learn about the problems faced by the community and how they handle them.
Image
Description
By joining a school rebuilding project in Nepal, student volunteers share their knowledge with local students and embark on a self-enriching, cultural immersion journey of their own.
Sub-heading
Tai O, Hong Kong
Image
Sub-heading
Other Overseas Service Learning Programs
Description
- Explore Social Innovation @U.S.A.
- Community Outreach Program @Indonesia
- Voluntary Teaching Program @China