From Empathy to Empowerment: A Journey of Change and Impact Creation
UN Sustainable Development Goals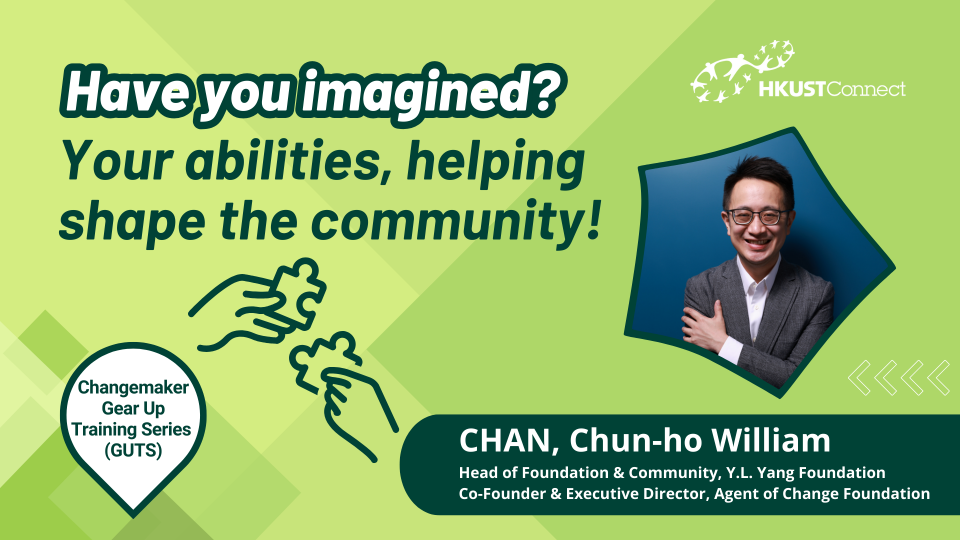 [This is a talk in Changemaker Gear Up Training Series (GUTS)]
Poverty, housing, aging, and mental health are topics that frequently appear in the news. We have become accustomed to these problems and have seemingly accepted that they will persist indefinitely. However, have you ever imagined that you could contribute to being one of the individuals who helps solve these seemingly insurmountable issues?
In this talk, our speaker, Chan Chun-ho William, will share his own experiences. He will discuss how he developed empathy and transformed it into impactful actions within society.
Join us, not only to love or to dream, but also to act!
Speaker:
Mr. Chan Chun-ho William
Head of Foundation & Community, Y.L. Yang Foundation
Co-Founder & Executive Director, Agent of Change Foundation
William has been an active youth leader at school and in the community. As a firm believer in 'youth can make a difference', he has endeavoured to play an active role in youth leadership and community service. He has initiated projects to help youth in enhancing their capacity in public participation and voluntary services. With his strength to face the forthcoming challenges, his passion to aid those who cry for help and his life-long dedication to serve our youth. William was appointed by the HKSAR Government as the youngest member of Commission on Youth and later was elected at the Global Youth Parliament by the World Bank as a Steering Committee member.
Since his graduation, William has continued to pursue professional training in the Juris Doctor Programme and committed to work for and with young people. He has co-founded a number of charitable youth organizations (i.e. Hong Kong Youth Exchange United Promotion Association, Hong Kong Student Development Committee, Hong Kong Student Activity Foundation and DragoNation) and initiated inspiring educational and developmental projects for students and youth.
William has served various positions, such as Executive Director of the Hong Kong Student Activity Foundation and the Hong Kong Youth United Promotion Association, Program Director of Youth Arch Foundation, Appointed Member of Commission on Youth, Appointed Member of Chiropractor Council, Co-opted Member of Youth Programme Coordinating Committee, Co-opted Member of Broadcast Complaints Committee of Communications Authority, Co-opted Member of Course Vetting Committee of Employees Retraining Board, Advisor of Our Hong Kong Foundation, Advisor of 21C@JC, Advisor of CLAP For Youth @JC, Member of Barristers Disciplinary Tribunal Panel, Co-opted Member of Employees Retraining Board, President of Hong Kong Outstanding Students' Association and President of DragoNation.
In 2014, he was awarded the Chief Executive's Commendation for Community Service in recognition of his contributions in youth services. His motto is 'to love, to dream and to act'. He truly believes that contributing his abilities is the best way to requite society. At present, his focus is to serve students and youth, especially the underprivileged, through advocacy of education for good, social innovation and health & wellbeing.
Remarks:
1. Complete 3 GUTS talks/workshops to receive a certificate of participation.
2. Priority will be given to HKUST Connect registrants. Start your changemaking journey with HKUST Connect: https://connect.hkust.edu.hk/joinus.
3. To ensure the smooth progress of the session, participants who are more than 10 minutes late may not be admitted by the facilitators.
4. [HMAW1905] This is a recognized event in the "Self-directed Experience" component of HMAW1905: Behavioral Foundations of University Education: Habits, Mindsets, and Wellness. To receive 1.25 hours, you must attend the event in full and miss no more than 10 minutes.